Vans Authentic - A Historic Sneaker
Opening a little shop in Anaheim, California, the Van Doren brothers certainly couldn't expect the shoes they were selling to achieve cult status at one point in time. But we know better now. Vans skate shoes are a household name nowadays. It all began with the #44 deck shoe, also known as the Vans Authentic. The simple design, the thick rubber sole and the sturdiness of the sneaker were only some reasons for especially the California skate scene to fall for it because the Vans shoe proved itself great for skating. Originating from the golden state the sneaker spread in no time and became a part of almost every skater's wardrobe around the world. It was followed by the iconic Vans Old Skool and several other models, all of which became just as popular. The Vans Authentic shoe is and will remain the most popular sneaker made by Vans nonetheless.

Classic, genuine, stylish – That's the Vans Authentic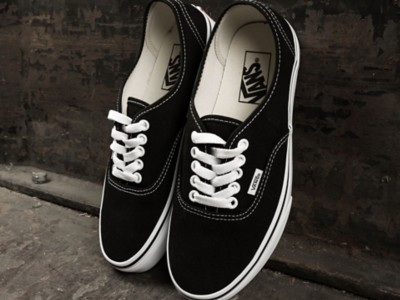 The much-loved design of the Vans Authentic didn't have to be changed much over the last 40 years. The shoe is made from comfortable, light linen or leather material and the thick rubber sole is equipped with the typical waffle design, which provides perfect grip for skating. The Vans Authentic offers your countless possibilities:


The sports shoe comes in all imagineable
colour variations and patterns
. With it you're ready for any occasion. We have one good tip for you: with the new colour-trend
Roseblush
your look will always be an eye-catcher this summer!
It's not only about the functionality and comfort, but the minimalistic design is also a reason for the Authentic's popularity – there's a reason why
surfers and skaters
young and old as well as the occasional IT-girl prefer the Vans shoe over other sneakers. To add a touch of glamour to the minimalistic look now and then the
classic
follows the new summertrend:
Shiny Shoes
! You can even choose from a
variety of cuts
to cater your needs: Lo Pro, Slim, Esp, Hi Top and much more. Find your unique match with the endless choices of colours, design patterns and cuts, grab your skateboard and off you go – to the park or the party.