adidas Eyewear – Fashion for your eyes from Herzogenaurach

Eyes are one of your most important sensory organs. It would be careless not to adequately protect them. Adidas has specialised its adidas Eyewear collection for that very purpose. It includes products like sunglasses or goggles that have been developed to meet the specific needs for different kinds of sports. Adidas develops its products in cooperation with top athletes. Perfect vision, great fit, protection and durability are top priorities. At Blue Tomato, you can get a huge selection of sunglasses by adidas Performance and adidas Originals.


Don't lose sight of your goals in direct sunlight – sunglasses and goggles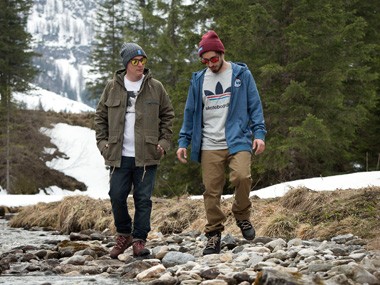 Sunglasses are an essential piece of sports gear. Whether you're biking, spring shredding, or just chilling at a lake in summer – you can improve your sports performance while keeping your eyes well protected. From the adidas Performance id2 for the mountain, all the way to the adidas Performance Evil Eye for the valley, rest assured that the perfect pair of sunglasses exists for every purpose. Adidas has made it possible to reach maximum performance thanks to innovative technologies.


SPX™ Material

The sunglasses by adidas Eyewear are not made of simple synthetics. The Bavarian company uses its own development, SPX™ Material. It scores with its low weight, high flexibility and durability, and an extremely hard surface. No matter how much you abuse your sunglasses, these guys are ready!


Wrap-Around Frame

Is there anything worse than a pair of sunglasses that slips around during sports and refuses to sit still on your nose? Adidas Eyewear is here to help! The new frame technology enables a particularly strong curve of the frame, while extending your field of vision. No more slipping and optimum vision in all situations are the obvious result.


Antifog-Technology

Where sports are involved, there are always differences in moisture and temperature. Thanks to ClimaCool™ Technology, however, this is not a problem. The dynamic ventilation technology directs the air to avoid it from building up inside the sunglasses or goggles. The result: unlimited field of vision in all conditions.


Lens attachment and exchange

All of the experience that adidas Eyewear has gained in its many years on the market has been used to create the

Lens Lock System™ and the
Quick-Change Lens System™.
That makes it possible for the lenses and filter strength of every pair of glasses to be adjusted individually. It's even super easy to exchange lenses without taking off your gloves. That way, you are perfectly equipped for all conditions on the mountain and in the valley.
Sweat Blocker – Compatibility for headwear and headbands

Of course, functionality plays the most important role next to style. All sunglasses are constructed so that sweat will not affect your vision during sports. The foam padding helps keep your lenses from fogging up. Safety first: to make sure you are well protected, all sunglasses are compatible with helmets and other headwear that you may be wearing. Of course, you can also just wear your sunglasses with a headband.


Freeskiing, Snowboarding, MTB and co. – they all swear by the German brand

It's not a surprise that brands work together with top athletes who wear their products. The number of athletes from the different areas is impressive. Top stars from track & field, cycling, sailing and other outdoor sports trust adidas eyewear. The fact that Kalle Ohlson, Russ Henshaw, Marko Grilc and Mathias Weissenbacher hit the mountain wearing adidas goggles speaks for their quality.

Get ready to go "All In" with adidas Eyewear by adidas Performance and adidas Originals!