Dusters California - Surfboards for the streets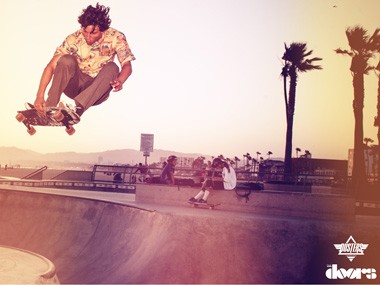 The youth of California have just one thing on their mind: riding the perfect wave - but if the sea's too calm their attention has to turn elsewhere…

Dusters California's solution: surf on the streets! Surf culture had an enormous influence on the early skate scene and, looking at the shape and style of Dusters' skateboards, longboards and cruisers, it still does to this day.
Dusters' bestsellers are laid-back, retro pintails for boardwalk surfing and short cruisers for pool and bowl sessions. They take the term "Sidewalk Surfing" literally.


Wood, Music and Craftsmanship - Dusters Live the 70's

Unlike most skate brands, Dusters still manufacture their decks in their own workshop - doing everything from laminate construction and fibreglassing, to pyrography and finishing by hand, with love.

The entire crafting process is overseen by creative director, Nano Nobrega who is heavily inspired by 70's youth culture. Each and every board just oozes vintage charm.
Every youth movement has its own sound and, as a tribute to his musical heroes, Nobrega pays homage to them in the designs of a couple of his board series. The first is a tribute to The Doors' Jim Morrison and the second is, of course, dedicated to the guitar God, Jimi Hendrix.


Carving, Cruising, or Pool skating?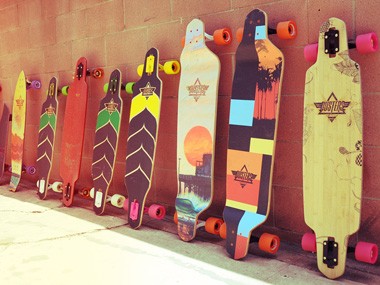 Riding a cruiser the paths become your playground. You'll soon be wishing the streets and pavements of your hometown were longer, smoother and wider, so you could skate them forever.
Thanks to their smaller size, cruisers have that extra bit of manoeuvrability and agility, which is ideal for packed path ways or park and bowl sessions, and are also super easy to carry and store. What's more, Dusters Boards are built to such a high standard that they can also be used for tricks, so get practicing your no-complies!

If you're looking for that classic street surfing feel, why not check out Dusters famous pintails? These classic Top Mount longboards are perfect for setting big, long carves and their long wheelbases make for an ultra-smooth, ultra-stable ride - both beginners and experienced riders will love the way these babies ride!


Complete Longboards - Trucks, Wheels and Bearings Included!

Dusters Completes are mainly fitted with Slant Trucks for their rad cruising and carving characteristics. Slant Trucks are made by Globe International, one of the world's largest skate producers, which also incorporates brands like Almost, Cliché, enjoi, Darkstar and many more - a testament to Dusters' calibre.

The wheels and bearings used are produced by Dusters themselves and are just as impressive as their decks. All the parts are carefully selected and matched to give you the best ride possible!

Complete Longboards by skaters for skaters - you can't go wrong! Take a look at the complete Dusters California collection at Blue Tomato!