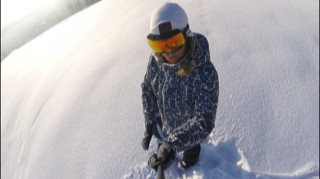 Ein einmaliges Surfgefühl – Nomen es omen!
of Alexandra, Nov 19, 2019
Dieses Jahr ist mir die Entscheidung bei der Auswahl eines neuen Snowboards gar nicht leicht gefallen. So gab viele coole Women Snowboard am Markt. Danke dem massiven Schneefall den wir dann zum Jahresanfang bekommen haben war eines zumindest klar es muss ein richtig gutes Powder Board werden. Ich habe mich dann für das Love Powder von Bataleon in 153 entschieden. Der erste Tag mit den Board war ein perfekter Powder Tag. Bei dem Board kommt einiges zusammen, Powder Triple Base, neue Sidekick Technologie in der Nose, Fischform und kurzes Tail. Alle diese Komponenten sorgen für ein einmaliges Surfgefühl im Tiefschnee. Das Board hat richtig viel Auftrieb und auch bei etwas unruhigem, schon zerpflügtem Powder ist es sehr einfach zu fahren. Das Board ist auch sehr drehfreudig und sehr wendig und ist so auch perfekt für Tree Runs geeignet. Retro sei Dank, gewinnt das Carven (meine 2te Leidenschaft nach dem Powdern) wieder mehr an Beliebtheit. Ich hätte es nicht gedacht aber dieses Board ist auch eine perfekte Carving Maschine. Das LOVE Powder ist mein erste Board von Bataleon, somit auch mein erstes Board mit Triple Base. Man merkt deutlich einen Unterschied aber dieser ist sehr positiv und man kann sich sehr schnell auf das neue Fahrgefühl einstellen. Man ist einfach gleich in (Powder) LOVE. Ich würde dieses Board für fortgeschrittene Riderinen empfehlen die ein richtiges Spass Powder Board suchen aber auch gerne etwas schneller auf der Piste unterwegs sein wollen.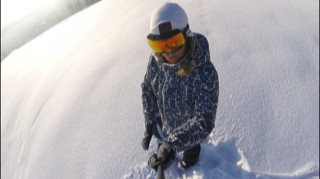 of Alexandra, Marketing, Nov 19, 2019, Blue Tomato
Ich bin Snowboarderin und Surferin aus Leidenschaft. Seit über 28 Jahren snowboarde ich und verbringe ich gut 55 - 70 Tage in der Saison auf dem Berg - bevorzugt im Backcountry. Dabei ist mir die Freude und das abschalten vom Altagsstress besonders wichtig. Man ist in der Natur, man genießt die Berge, den Ausblick, der Kopf wird frei und nach einer ausgiebigen Riding Session ist man einfach super HAPPY. Größe: 169cm, Local Area: Schladming Dachstein Region / Ski Amadé und Hochrindl in Kärnten.