DOUCHEBAGS™ - REDEFINING TRAVEL
There is much more to this company than just a funny name - douchebags is a movement. The Norwegian company is on a mission to make travel easier.

In 2009 Jon Olsson, a pioneer of freestyle skiing and Truls Brataas, a product designer, met surfing. The two minds struck it off immediately and The Douchebag was born. The Douchebag is a product like no other. A ski bag like no other: lighter, stronger and more packable. Since 2012, when production began, Jon Olsson has travelled the world with his trusty Douchebag.

'THE BEST SKI BAG EVER MADE'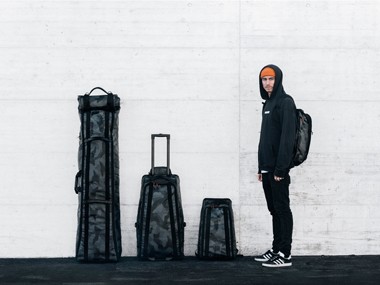 douchebags started with one product, the Douchebag. A multiple award-winning ski bag and 'the best ski bag ever made', according to Outside Magazine. The Douchebag extends up to two metres and folds down to a fraction of its size when not in use. The Douchebag is complimented by the Slim Jim, another folding ski bag, but even more compact. The Slim Jim and The Douchebag are two of the lightest wheeled snowboard or ski bags on the market.

The luggage line also features the Big Bastard and Little Bastard. These two follow the douchebag's heritage of quality and quirky names. The Big Bastard is 90-litres, durable and lightweight - ideal for longer trips. The Little Bastard is of equal quality and has 60-litres of storage. The Hugger 30L and 60L are designed as every day, carry-on luggage. The newest addition to The douchebags family is the Explorer. The skiing and snowboarding knowledge of The douchebags team has crafted a minimal, yet fully equipped, skiing backpack - great for on and off the hill.

WHAT MAKES A DOUCHEBAG SPECIAL?
What separates The Douchebag from an ordinary ski or snowboard bag? douchebags follow the fine tradition of Scandinavian design. Each bag looks sleek and stylish, but it's not all for show. You would struggle to find luggage which performs as well.

douchebags have five design principles:

• Adjustability – Bags are length- and capacity- adjustable, ready for your gear.
• Easy to Carry – Straps and handles make carrying your douchebag a breeze.
• Protection – ABS 'ribs' keep your equipment safe.
• Low weight – Who needs heavy baggage? Avoid extra charges with the lightest bags about.
• Compressible – all douchebags roll up or pack down to a fraction of their size.

The five design principles have been carefully crafted. The masterminds behind douchebags, Jon and Truls, surveyed 150 skiers and snowboarders, baggage handlers and airline companies. Add to the mix The Norwegian University of Science and Technology and you have both brains and experience. All of these minds together have begun to redefine travel.

Shop douchebags at Blue-Tomato.com