Sector 9 – Longboarding as a way of life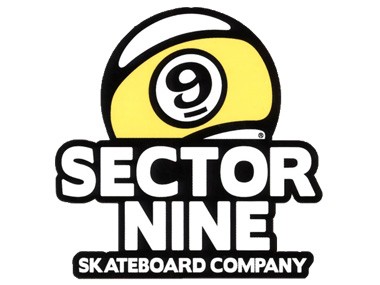 Ride with Pride
Sector 9 has set itself a goal: to transfer the unique feeling of surfing and snowboarding to the street... and they did it!
We want to introduce you to probably the most influential brand in the development of longboarding.


Boards out of the garage – how it all started

The success story of this brand didn't need more than some good friends, a halfpipe, a pool table and a few cool skate spots in the area.

In 1993 Dave Klimkiewicz, Dennis Telfer and Steve Lake from La Jolla, California, were tinkering on new board shapes in their garden. They didn't just want to ride waves, they also wanted to conquer the asphalt!
Eagerly they started to work on several boards and called the new brand "Sector 9" – a tribute to the house where they lived together and crafted boards. So to speak the birthplace of the brand.


Laughed at in the early days, today frequently copied – Sector 9

The boys had a vision which differed greatly from other skateboard producers. Instead of producing "downsized" skateboards, particularly suitable for technical tricks, they specialized in longboards inspired by the shapes of the 70s.
Other brands laughed at them and thought they were doomed to fail. But Terver, Klimkiewicz and Lake cherished their idea and created a niche in the modern skate scene!

Through years of innovation work Sector 9 has become one of the leading longboard manufacturers. Nowadays the brand is part of Billabong International, but the boards are still produced in California.


No compromises: Quality down to the last detail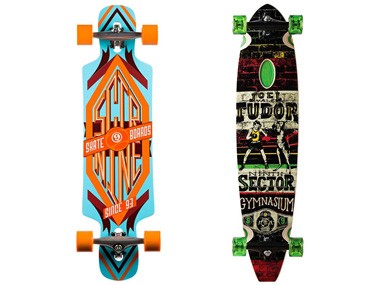 Why are Sector 9 boards so popular? There are enough reasons to get a board from the American manufacturer. A key factor is the quality. All boards are designed and produced in San Diego. They stand out especially because of their splendid designs, stability and durability. They achieve the latter by their special manufacturing: a core made of the best American maple, reinforced with fibreglass.
First class responsiveness is the logical consequence – no turn is too deep, no slide too long!

With all this technology, the style factor should not be neglected! Sector 9 knows like barely any other brand how to beautify their boards with timeless prints. You will love this longboard and simultaneously cause a stir – guaranteed!


Sector 9 spoils you for choice
There is a fitting board for every riding style – whether you prefer to ride in the park, in the city or on winding mountain roads. Sector 9 offers boards you can have fun with anywhere!

Freeride Boards
Downhill Boards
Cruisers
Carving Boards
Dancing Boards
But you can also rely on the Californian brand for accessories. The wide range of wheels is impressing in all durometers, diameters and shapes.
Especially the Race Formula Wheels are used by skaters worldwide. Their extraordinary durability and fabulous grip have made them bestsellers.

When it comes to trucks, Sector 9 relies on well-known names: the reliable Gullwing series is good looking not only on completes.
If you are looking for bearings, grip tape, riser pads, mounting kits or new slide gloves – the range includes everything you need for maximum fun on four wheels!


Sector 9 Teams – riding around the world on wheels

The team consists of highly motivated girls and boys. Among others the riders include Tyler Martin, Tibs Parise, Annie Sullivan and Evelyn Abad, who especially feel good going down a mountain at high speed.
The Sector 9 Downhill Division unites the best downhill riders of the team. They travel around the world to take part in various events and IDF World Cup Races, and again and again they also discover unique spots for longboarding.

Furthermore, the Sector 9 family also includes a Skate, Surf and even a Rock Team.
To keep true to their roots, Sector 9 supports the entire skate community! Events are sponsored, fundraisers and concerts organised!


Protect the environment! Without it there is no longboarding…

Everyone who spends a lot of time in nature knows: we have to take care of our earth!
Sector 9 is leading by example. The company recycles various materials and waste from the production, operates its machines on wind energy and drives cars on bio-gas.
Artist and environmental activist Erik Abel has hand-painted some decks. These unique pieces were auctioned for charity.

Therefore, at Sector 9, not only the quality of the boards is right, but so is the overall picture. If the brand impresses you just as much as it impresses us, you should get one at Blue Tomato. Nothing stands in the way of your unforgettable summer on wheels!