Welcome to Nature, Welcome to Norrøna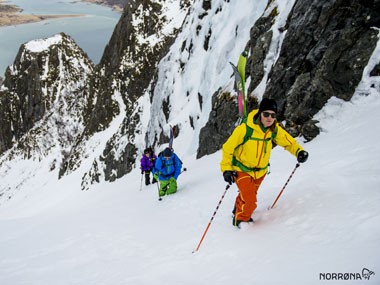 At 85 years old Norrøna is a dinosaur amongst the outdoor brands, but a dinosaur that shows no signs of slowing down. Founded by Jørgen Jørgensen in 1929, Norrøna is the epitome of Norwegian function, design, style and quality and is a fourth generation family business. The sporting goods and leather works started out making backpacks, tents and leather products and quickly moved on to making expedition worthy sleeping bags and robust outdoor clothing. Having survived countless periods of economic growth and decline, Norrøna has experienced something of a revival in the last 10 years. In the early 70's they dedicated themselves to innovating with new fabrics and in 1979 were the first manufacturer to sell Gore-Tex® clothing in Europe. These days the outdoor life is fully in fashion and, thanks to their natural lifestyle, Norrøna find themselves perfectly positioned. As the supplier for countless famous expeditions to places like Mount Everest and the North and South Poles, the brand has mountains of credibility and a reputation for producing durable, functional outdoor clothing.

Countless Style Concepts, One Mission. Norrøna Street and Snowwear

In 2001 Norrøna released a collection of street and snowwear for skiers and snowboarders, which featured three concepts designed to meet the wearer's specific requirements:

Røldal is the urban freeride range and features functional, stylish designs made with Gore-Tex® fabrics.
The Narvik line is designed for backcountry loving freestyle riders and is packed with technical details and casual styles. The line includes high quality base and mid layers as well as backpacks and gloves.
The Lofoten line famously features Gore-Tex® one pieces and ultra-light PrimaLoft jackets and pants for passionate big mountain freeriders.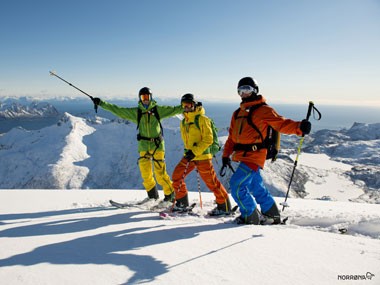 As well as the ski and snowboard collections you'll find such concepts as:

Lyngen for ski mountaineering
Falketind for lightweight mountaineering and climbing
Tollveggen - mountain workwear
Bitihorn for lightweight trekking
Svalbard - essential outdoor gear
The women's range includes a variety of feminine colours and fits without sacrificing any of the quality. Also available are collections for
mountain bikers, mountaineers, rock climbers
and
hunters
, as well as a junior collection that gives little adventurers the opportunity to go on big adventures. Norrøna's mission is simple: to create extraordinary,
durable
products
for an active outdoor lifestyle.
Norrøna believe in craftsmanship and their outdoor products are designed, crafted and prototyped by hand in their prototype workshop in Norway. They also use
real coyote fur
as opposed to fake fur as it performs better in cold conditions and requires no oil in its production like fake fur. The fur is sourced from North America, where the coyote population has grown too large and coyotes are responsibly hunted by licensed hunters. The company are strong believers in corporate social responsibility and have strict guidelines on ethical trading, carrying out regular audits on their suppliers. They also constantly review their products to ensure they are as eco-friendly as possible.
Functional Designs that Pay Dividends

Norrøna's clean style goes down well with customers and has earned the brand a number of design awards for their products, in particular the Trollveggen Gore-Tex Pro Shell Jacket and the Lofoten 35 backpack. Norrøna's credentials have also been recognised by a number of top skiers and snowboarders with Norwegian snowboard legend Andreas Wiig becoming a brand ambassador in 2012. Also part of the team are Swedish queen of freeride skiing Christine Hargin and Swedish freestyle skier Even Sigstad. Take a leaf out of their book: say yes to nature, say yes to Norrøna. A huge range of functional Norrøna gear, including a huge variety of Gore-Tex® jackets and pants are available online and in store at Blue Tomato.