Gloryfy Eyewear - The Unbreakable Heroes of Zillertal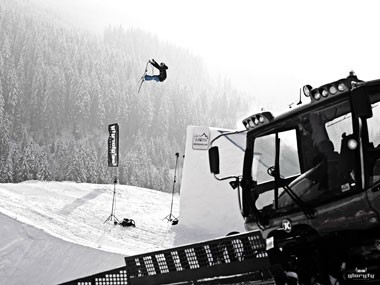 A few years back, after witnessing a friend injured by their own sunglasses in a ski accident, the founder of Gloryfy was inspired to develop sunglasses and goggles that were unbreakable. Years of development followed in a purpose built lab in Tirol, searching tirelessly for the right materials and the best way to produce them. It was in 2008 that the first unbreakable sunglasses stormed onto the market, but it took another two years until proper series production could begin. With all that behind it, Gloryfy's collection of high end sunglasses and goggles can now be found in renowned board sports shops like Blue Tomato.



Unbeatable Sunglass Technology Meets High End Design

Gloryfy sunglasses are unbreakable; you'd be hard pushed to find better eye protection anywhere else in the world of sport. Their special, in-house developed plastic makes the impossible possible. Even the most extreme stresses pose no problem to these shades.
Combined with a range of technologies, these glasses are unbeatable:

Optical Performance through prismatic correction - all glasses feature prismatic correction to compensate for the curvature of the lenses
Unbreakable, shape retaining lenses thanks to super flexible G-Flex material.
Ultra flexible frames made of I-Flex plastic
Modulated system - the frames, arms and lenses of all sports glasses are easily interchangeable and combinable
100 % UVA/UVB protection
People's tastes differ and change, so all their models are available with different coloured frames and with different lenses. From classic blacks and browns to eye-popping Angel Green or Shiny Orange, the Gloryfy
colour palette
is impressively extensive. You can also choose between
sporty, aerodynamic shades
and more
fashionable, style-oriented shades
. Gloryfy's team of sponsored athletes includes the likes of Swedish snowboard pro
Chris Sörman
, exceptional climber
David Lima
and DTM driver
Timo Scheider
, all of whom have had a hand in designing their own signature glasses. Chris Sörman's
pro model
is an absolute jewel amongst Gloryfy's range of goggles. Highly functional, eye-catching and, of course, unbreakable, this shredder's goggles are worth a look.
Sunglasses for Fashion Icons and those with Dirtbag Appeal

Markedly creative, innovative and with a generous sprinkling of cool, the Gloryfy Lifestyle collection has really captured the spirit of the 21st century, as well as the imagination of artists like the DJ and production duo from Wien, Camo & Krooked, who gave their creative input in the design of the Gi2 DeJaVu Zeitgeist. And with style icons like Werner Schreyer supporting the label, there's no doubting the authenticity and quality of these shades. The German superstar of the fashion scene even has his own model coming out, the Gi6 Icon Werner!s.

Get your own pair of unbreakable sunglasses at Blue Tomato and make the stress of broken sunnies a thing of the past.