Burton Backpacks: Function Meets Design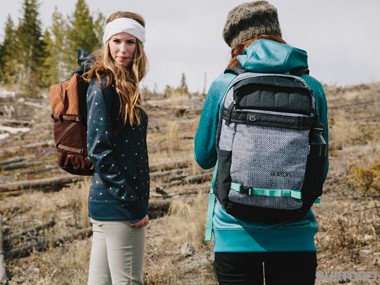 Although Burton are best known for their innovative range of snowboards, protectors and snowwear, anyone who has had the pleasure of calling a Burton backpack their own will know just how good they are. These rad bags and backpacks out of Vermont are bang on trend and loved not just by winter sports fans, but by the rest of the world too.

From Handbags to Backpacks to Wheeled Bags - Perfectly Conceived Design

Burton's range of bags and backpacks is huge and varied, encompassing a whole range of different models specifically designed to cater to the user's different needs. Featuring ergonomically designed handles, grips and back sections, Burton backpacks and bags are made of light, durable materials that protect their contents from impacts and moisture. Hauling luggage about shouldn't have to be backbreaking work, whether it's travel luggage, a functional athletic backpack or your day to day backpack that you use for work, uni or school.

Backpacks with Plenty of Space

Designed around you, Burton backpacks are equipped with a whole host of zip-up compartments, both interior and exterior, as well as special padded laptop/tablet compartments. They are perfect for stowing objects of all shapes and sizes and even feature practical snowboard carry systems to make your life easier.

All-round Happiness with Burton

When you purchase a backpack from Burton, not only are you getting a robust, durable bag with plenty of usable volume, you're also getting a fantastic piece of design. Colour, shape and materials - as well as function, of course - are important factors for Burton's designers and their range of summer patterns and bright, bold colours are proof of that. Alongside more memorable, fashionable offerings, the product range also includes a number of subtler, more serious designs.

From Big Bags to Small Bags, According to your Requirements

The high quality standards Burton set for their backpacks also apply to their travel bags and trolley bags, handbags and laptop bags. You're guaranteed value for money whatever you go for. Whether you're looking for a lightweight travel bag, a robust shell suitcase or a simple messenger bag - Burton have the right product for you.

Browse our extensive selection at Blue Tomato and find your new Burton backpack today,