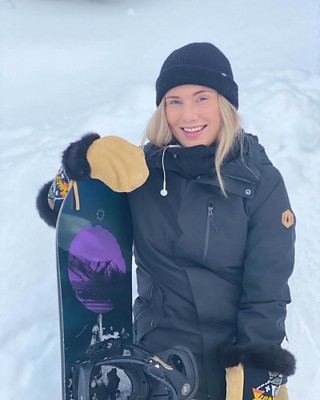 Staff Pick: Definitely my new favorite board!
of Sara, Blue Tomato Shop Amsterdam, Blue Tomato, Jan 28, 2020
Hi guys! I am Sara and have worked at Blue Tomato for half a year. I am originally from Norway and have been snowboarding for 12 years. I ride all-mountain, but are looking to improve in the park. I am 172 tall and got this board in 146. When I was searching for a new all-mountain board, my choice fell on Capita's Birds of a Feather. As I wanted a board that I could use for the park, but I still do not feel ready to invest in a true park board. Therefore, I found it necessary to have a board that I could use for anything. At least for now. After trying out my board a couple of times now, I have fallen in love with it! It is all I ever wished for in an all-mountain board. It is very forgiving, and a great board to advance further with. It is easy to maneuver, very responsive, but not too aggressive. The medium flex is just perfect for me, as I can progress in the park, but also use it for any terrain I might wish. I love the true twin shape and it feels natural to me riding both regular and switch. I have unfortunately not gotten to try it out in powder, but I am very excited for when I do get the chance to do that. Therefore, I would recommend this product for anyone looking to buy all-mountain board you can rely on and I promise you a joyful ride!
About me:
Hi, I am Sara and have worked at Blue Tomato for 1 years. I am a Snowboarder with over 12 years of experience, mainly riding All-Mountain. I am 172 tall and I bought this product in size 146 .