Surf bags
I pack my backpack and bring my...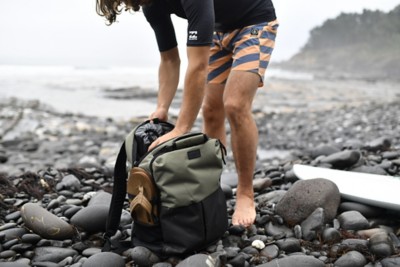 It's a sunny, hot summer day, and you get an itch to go on a travel. You got your friends on board and collected all your surfing gear, which you somehow managed to stuff in your little car, and you're ready to go. You watch your surfboard dangerously leaning towards the window as you start the engine. Now – we all know this scenario. After hours of traveling, chaos reigns supreme in your trunk.

You are sure, before you left for your travel, you painstakingly packed everything away in sensible places, but at the end of a long day on the road and countless complex search operations later, you're still looking for that one thing you absolutely and most definitely left right there. And there's nothing more frustrating than watching the perfect set roll in as you fruitlessly search for your wax.

Thankfully, brands like Quiksilver and Rip Curl have the solution. Surf bags, not to be mistaken with surfboard bags, are backpacks designed to organize and store your miscellaneous bits and bobs.

The backpacks come with:


Wet compartments for your wetsuit etc.
A bag for your fins
Optimal organization and maximum volume for your accessories
Extra pockets for your glasses, smartphone, ponchos, sun cream and more
Naturally the products are all waterproof! Sounds good, eh? After all, grabbing a bag is a whole lot easier than a finding a little block of surf wax in your chaotic ride. So what are you waiting for? Grab your surfboard, enjoy an untroubled day at the ocean and use your new bag.
Check out our
Blue World
Stories around the topic surfing, and find out more about our favorite beach activity!
Looking for a new surfboard? Check out our
buyers guide
!