Champion - Your Number 1 for Sportswear
The Feinbloom brothers are the ones to thank for the sports and clothing legend that is Champion. They founded Champion in 1919 in Rochester, New York and began their career by kitting out school and college sports teams with high quality sweatshirts and jogging pants with Champion gear.

Originally known as "Knitting Mills Inc." the brand started out by making woolen undergarments. Their clothes kept workers and athletes protected from the cold outdoors. Their reputation got around and soon US military academies were using their warm clothes in their training facilities.

In the 1950's the company underwent a rebrand and logo redesign out of which arose the famous "C" that we know today. They have kept their classic red, white and blue colours to this day, proudly emblazoned on the left arm of the sweatshirts in the same place as they always have been. The famous C became their logo and now adorns the entire range of quality shorts, sweatpants, sweatshirts, hoodies and t-shirts by Champion.


From Pioneers to Classics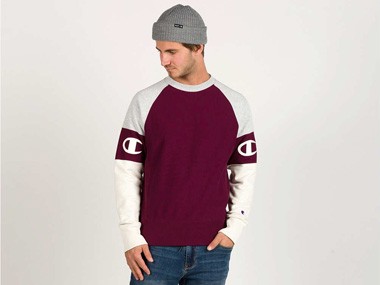 We wear them before we get down to training and throughout that training we can't wait till we get to put them back on again. In fact, we have Champion to thank for the first hooded sweatshirt. These days Champions hoodies Champion hoodies have far outgrown their original usage and have become a staple of everyday wear.

Innovation is a tradition at Champion - they were the first brand to introduce a breathable Nylon Mesh fabric to the market, which was an instant hit and swiftly became the main material used in Basketball uniforms across the world.


The Reverse Weave
Champion have been known as sweatshirt pioneers from the outset. Probably their most groundbreaking innovation was the Reverse Weave. The fabric is weaved transversly as opposed to longitudinally to resist shrinkage.

The idea of the reverse weave was inspired by American trainers who wanted to be able to wash their athletes clothes without the risk of their jerseys shrinking in the washing machine. The reverse weave makes their clothing durable and unique. Champion patented the revolutionary technique in 1952.


And our generation loves these classics just as much as former generations. Champion knows that sportswear is more than just sportswear. Get some retro vibes in your life!